Commissions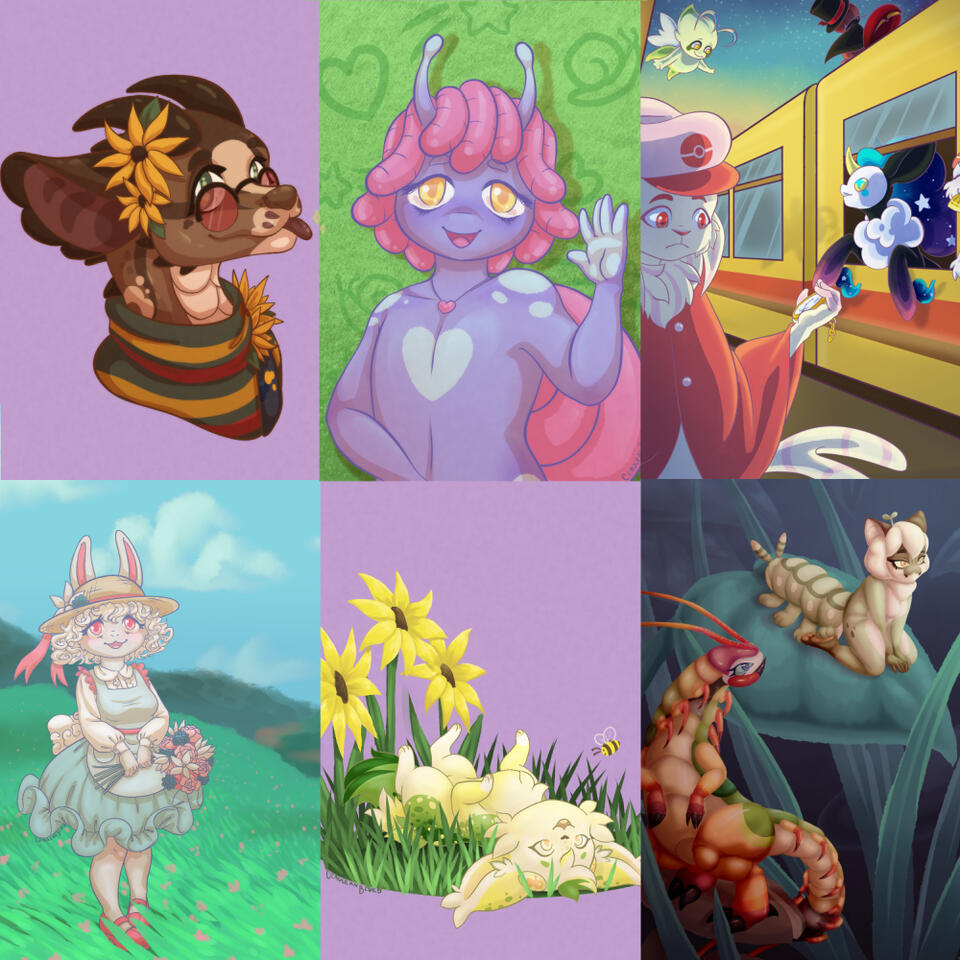 | Style | Bust | Halfbody | Fullbody | Background |
| --- | --- | --- | --- | --- |
| Flat Colors | 10$ | 20$ | 40$ | N/A |
| Cell Shading | 15$ | 30$ | 60$ | 20$ |
| Full Painting | 30$ | 60$ | 90$ | 30$ |
Simple one color or basic patterned backgrounds are included in the price.

You can mix and match background and character style.

Extra characters do not receive a discount unless they are a simple companion, like a stuffed animal or small pet.

Complex characters and architecture can add on a complexity fee. (ie. characters with many overlapping intricate markings, lots of layers of clothing, etc.)

I do not draw NSFW, racist, homophobic, or otherwise offensive content! While not a hard rule, I am not very good at mechs, so if you would like that drawn, please talk with me first!
Customs & Ref Sheets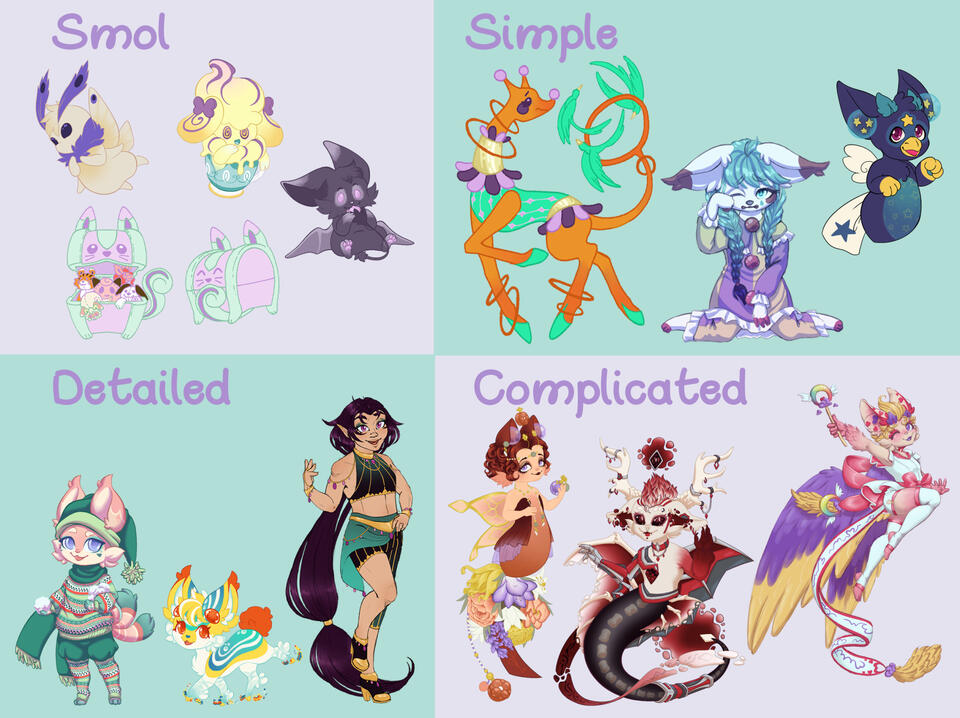 Customs - 50$
Customs come with one turn.

I will design customs of most species, closed or otherwise, but you must provide your own myo tokens unless you are commissioning a custom bottlekin.

I can design outfits, armor, and weaponry, prices vary.

Customs will come unshaded by default, shading can be added for additional fees.

Elnin growths are available for 90$, which includes wips and necesssary edits in the approval process.
Ref Sheets
| Number | Turns | Chibi Outfits | Details |
| --- | --- | --- | --- |
| 1 | 40$ | 30$ | 5$ |
| 2 | 80$ | 40$ | 8$ |
| 3 | 120$ | 50$ | 12$ |
| 4 | N/A | 60$ | 15$ |
Name, swatches, and simple background are included.

I will require a written description and like to have as much character information, reference images, moodboards, color palettes, or other helpful information before I start sketching.

You will receive sketches and color mockups for approval. Changes made after these are approved will require additional fees.
Terms of Service
By purchasing artwork, designs, or other artistic services from me, you are agreeing to all terms listed here.

Refusal to pay or chargebacks for a commission, design, or any other service will result in a ban from any future sales and cancellation of the artwork ordered.

Payment is due at the time of work starting or at the end of a design auciton.

I accept payment through Paypal, using the goods and services option or with an official invoice.

I retain the right to refuse or refund commissions at any point of the sales process.

I do not offer refunds for finished commissions; you will be able to approve the work at multiple points during the commission unless you are buying a mystery design. Failing to respond to these updates can result in termination of your commission.

You are welcome to post commissioned works on your personal pages and social media with credit to my accounts.

You are not purchasing a commercial use license for this work, meaning you cannot distribute it for personal gain or claim it as your own.

I retain the right to use all of my artwork for promotional purposes.

Work can take anywhere from 5 days to several months to complete depending on scope.

Unless explicitly stated otherwise, you are receiving a digital file.

Make sure to save your files on delivery as I cannot promise that I will be able to maintain a digital copy.

Disclaimer: I may post and complete works before the completion of your artwork. This is to help keep my accounts active and to prevent burnout. If this makes you uncomfortable, please do not commission me.